HOLIDAY SPECIAL:
10% OFF YOUR ENTIRE ORDER!
USE COUPON CODE "PEACE10" AT THE CHECKOUT
---
Elektra Magnesium Cream – The World's First Natural Magnesium Cream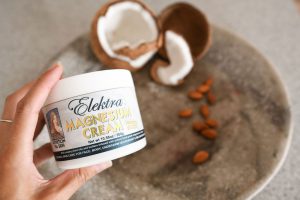 Elektra Magnesium Cream and Why it Works So Well
Sick of being 'burnt off' by straight magnesium oil which leaves a sticky stingy residue? It is not 'irritating', but very beneficial to heal eczema, psoriasis and dermatitis BECAUSE it is ionized magnesium chloride with trace minerals combined with fats (lipids). This is the secret and the science of how it works better…"
Natural (chem-free)
Fair trade shea butter
Re-use & recyclable packaging
Australian made
Vegan friendly
Silky Smooth Finish ~ Absorbs Well
If you have tried magnesium tablets and are not getting much relief from them, or have a sensitive digestive system and can't tolerate magnesium supplements orally, you may have heard about magnesium oil now appearing in health food stores and pharmacies. Even though pure magnesium oil is transdermal magnesium and can relieve a cramp or muscle pain, it certainly leaves a sticky and irritating residue for most people and can even sting and burn those with sensitive skin. Many just end up using it short term like they would take an aspirin to relieve pain, but then put it back in the cupboard and not use it as a daily supplement. However, we need magnesium supplementation daily because there is only a certain amount able to be taken up at one time. Just like water, you can't fill up on Monday with nothing for the rest of the week.
We know how to make quality transdermal magnesium skin care that absorbs well, smells good and feels sooooo good! It's something that you would really love to use every day because of how great it makes your skin and muscles feel. Why is this important? Read More
Cream Benefits
Natural (chem-free) skin care, hydration, protection and anti-itch cream
Anti-ageing benefits
Calming massage to relieve stress
Relief of leg cramps, period cramps and tight muscles/joints
Gentle enough for babies and children
Before and after sun skin care
Can replace tablet magnesium supplement if 2 or more teaspoons applied per day
Can replace other body moisturizer
More effective and great value for money
Superior absorption compared to magnesium tablets
Natural and effective underarm deodorant
---
Elektra Magnesium Charge Lotion
For active people on the go…
MEDIUM STRENGTH FORMULA
30% MG Chloride formula* half way between Elektra Magnesium Cream and Elektra Magnesium Oil Spritz, Elektra Magnesium Charge Lotion is designed for convenience as an 
all-in-one moisturizer, massage lotion, deodorant and magnesium supplement…
Fresh aroma of lemon-scented tea tree, which also has antibacterial and antifungal properties.
NOTE: Not recommended for sensitive skin types. If you have sensitive skin conditions please refer to the milder Cream formula.
One teaspoon = approx 300mg elemental magnesium​
High in Vitamin C and Magnesium Charge
Elektra Magnesium Charge Lotion is absorbed and incorporated beautifully into the epidermis, plumping it up with hydration, and leaving no sticky residue. Powerful antioxidant Australian botanical extracts of Kakadu Plum, Davidson Plum, Quandong are naturally high in vitamin C, adding extra cleansing benefits and collagen support. Lemon-scented tea tree provides anti-microbial benefits and gives the lotion a fresh aroma of tangy lemon – ideal for use also as a deodorant.
Note: Do not apply lotion directly to broken or abraided skin. Best to massage in around any damaged skin area. For sensitive skin the lotion can be diluted by adding extra vegetable oil during the massage, as fats have a numbing effect.The products can be combined to suit individual skin and body care needs.
Magnesium is Essential for Bone Health
Scientific studies show, "Positive associations between greater intakes of dietary magnesium and grip strength, indices of skeletal muscle mass, and BMD in men and women in middle and older age groups." These studies suggest that magnesium supplementation may help with strategies to prevent sarcopenia, frailty, falls, and fractures.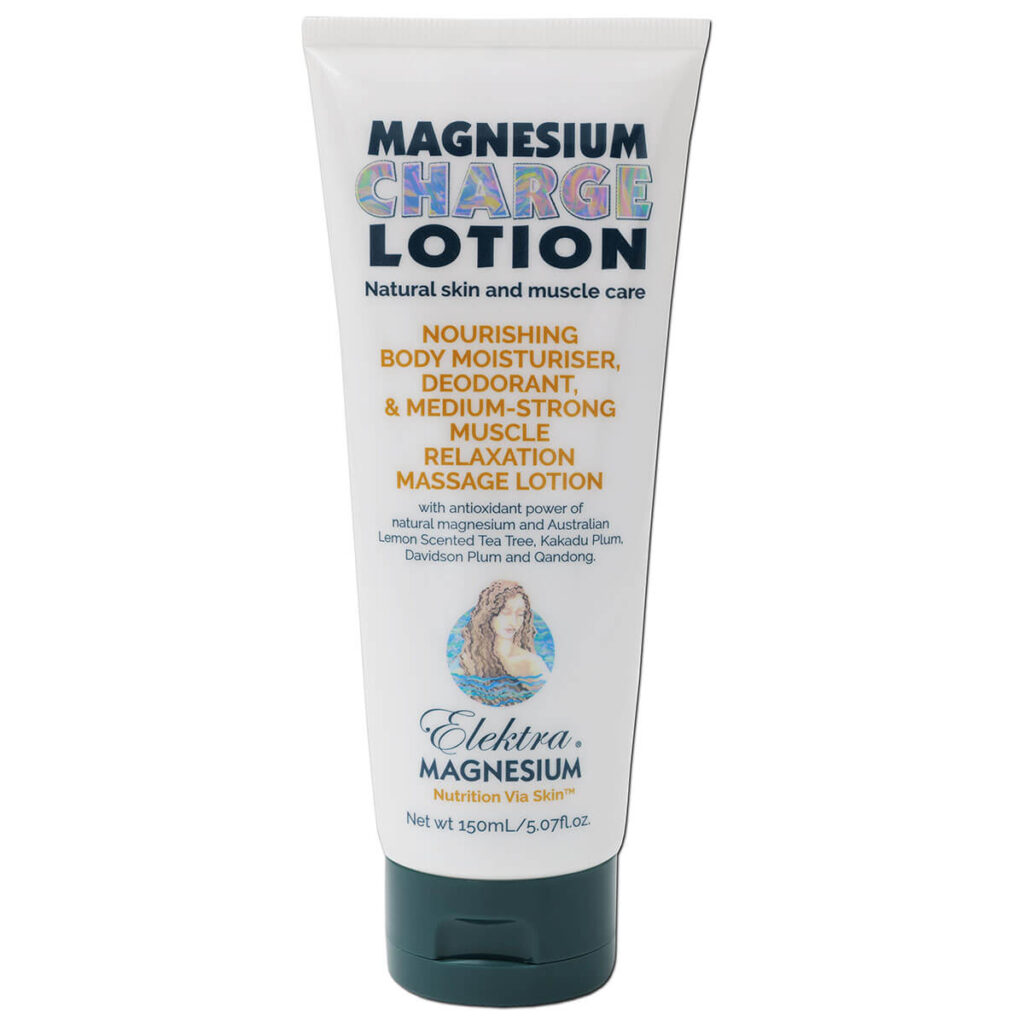 ---
Elektra Magnesium Oil Spritz Formula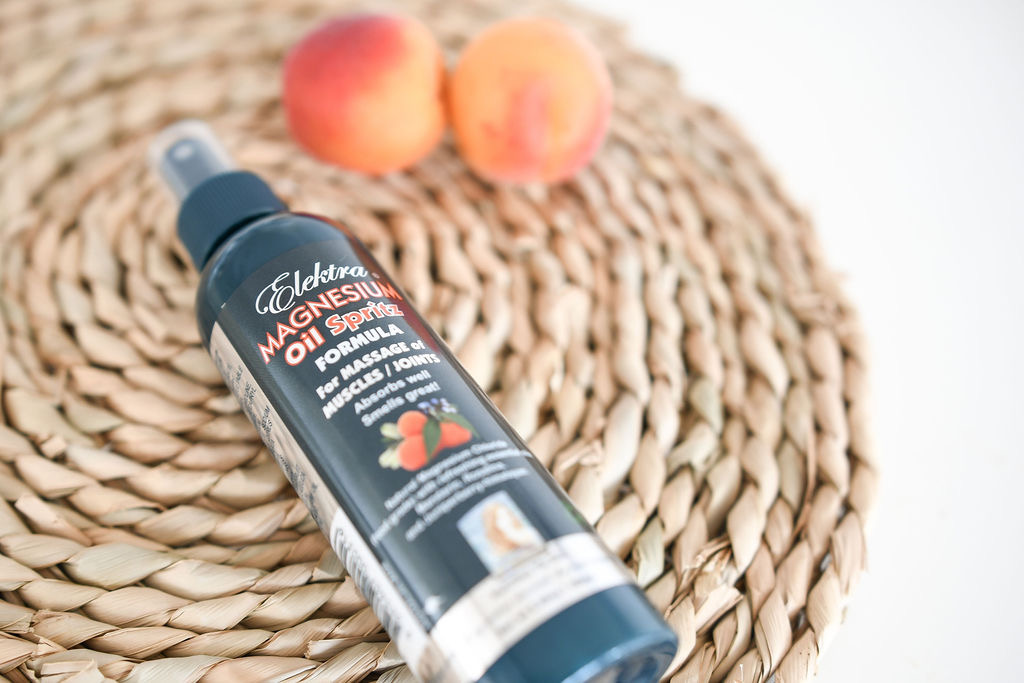 Elektra Magnesium Oil Spritz Formula is a strong 60% magnesium chloride formula to be used in massage of muscles and joints for relaxation of tension!  This formula is a heavy duty magnesium oil with a refreshing mandarin fragrance. It offers potent high concentration magnesium plus botanical ingredients to enhance absorption, avoiding the sticky irritating residue of straight magnesium oil.  6 sprays delivers a whopping 300mg of elemental magnesium.
Benefits of Magnesium Oil Spritz include:
Safe, easy and convenient to use (e.g., sprayed and rubbed on skin)
May be applied directly to skin for massage of tight muscles and joints
Rapidly absorbed for uptake into cells, tissue, organs, and bloodstream, to help prevent magnesium deficiency.
Skin absorption is passive and self-regulating as the body keeps its own homeostasis, using the skin as a nutrient reservoir
Skin absorbs more magnesium (via magnesium chloride in solution) than can be absorbed using oral supplements (which must first be digested)
Lower cost per dose than many orally-administered magnesium supplements
Bypasses processing by the liver and kidney (unlike oral supplements) because no digestion is required
Does not involve gastrointestinal upset or loose stools associated with oral magnesium supplementation
Lower cost per dose than intravenous or intramuscular injections, which typically are administered by health professionals
Does not involve pain associated with magnesium injections and no special equipment required
Natural Elektra Magnesium Chloride mineral salt flakes (food grade) also incorporate 2% other sea trace minerals – essential for good health and wellbeing. It's a 'mineral package from Nature' for better nutrition.
Magnesium Oil Spritz Ingredients – All Natural
Magnesium Chloride Hexahydrate used is 'food grade' and tested in Australia by an independent laboratory, with no mercury and no lead detected. Each 180ml bottle contains approximately 111 grams of magnesium chloride hexahydrate in solution of purified water (61.8%). Additional natural ingredients: Vegetable glycerine, Cocoyl proline, Caprylyl/Capryl glucoside, Potassium sorbate, Sodium borate, and the Essential Oils of Mandarin, Juniper berry and Rosalina. Six sprays contain around 300mg of elemental magnesium.
Elektra Magnesium Spray Offers Natural Nutrients To Provide Results In Minutes
Elektra Magnesium Spray contains no artificial elements and delivers nourishment that is absorbed by your epidermis for skin defence and a fresh appearance. Our products are 100% natural and can be used daily as a complete body care routine for beauty and excellent health.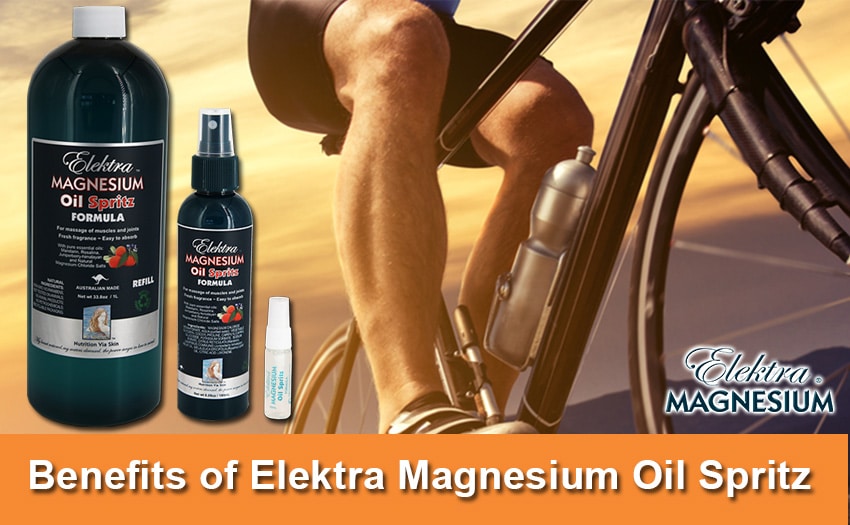 The Benefits Of Magnesium For Sports Performance
An ecological point of view drives our magnesium oil benefits. Our ingredients do not cause adverse reactions when used with medications, as they are sourced naturally and contain no lead, mercury or chemicals.
Active people frequently experience muscle strain, stiffness, inflammation, and chronic pain caused by acute conditions such as torn ligaments, a frozen shoulder or other sport-related injuries. Even sitting at a desk all day or walking back and forth on a shop floor can cause discomfort.
Magnesium for sports performance will swiftly relieve the soreness in your body. Our Elektra Magnesium Oil Spritz formula contains 60% magnesium chloride, botanical ingredients to ease absorption and a lovely mandarin aroma, which works wonderfully when massaged into muscles and joints. It will likewise reduce the agony and stiffness caused by arthritis within minutes.
Spray as much of our concentrated magnesium oil for benefits as you want, where you need it − depending on the amount of discomfort and tautness you must relieve. Our product soaks into well-conditioned skin faster than dry skin, so if you have very dry skin you may need first to apply Elektra Magnesium Cream or Lotion (which contains extra plant fats) to accelerate and enhance absorption of the strong magnesium oil. Do not apply to broken skin.
Our Australian-made products are Vegan friendly, contain fair trade Shea butter, organic, naturally dehydrated, and food-grade alpine salt. We also use recyclable packaging and some products have re-use sustainable containers.
---
Do you want to become an affiliate?
Click here for more information about how it works
---
For Health Practitioners who are interested in becoming wholesalers, contact us here.