ELECTROLYTE REPLACEMENT STRATEGIES
Elektra Magnesium Flakes
Magnesium Chloride Hexahydrate FOOD GRADE – "The King of the Minerals…"
(98% MgCl2.6H20, min 46% MgCl2).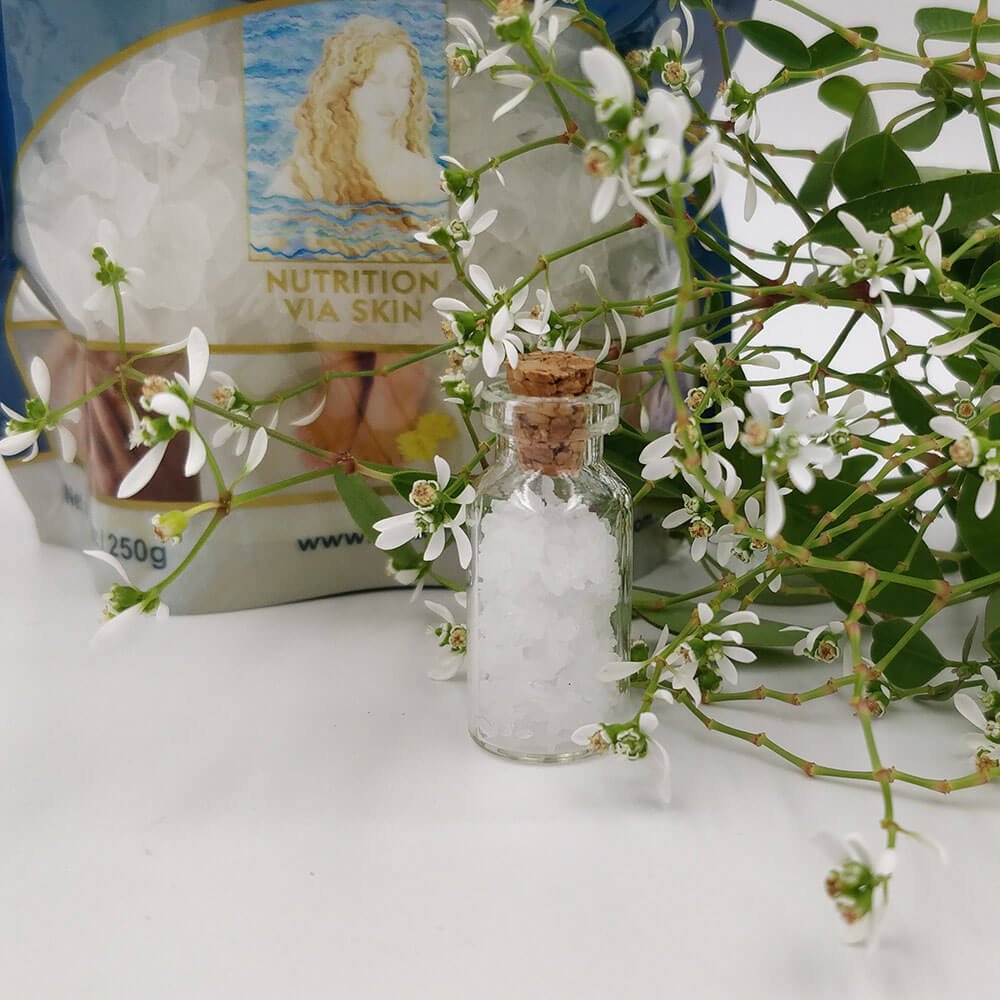 TO MAKE ELECTROLYTE DRINKING WATER (like natural spring water – tastes great!)
PER LITRE FILTERED WATER: One pinch flakes (half a gram in weight) = 80mg elemental magnesium. Natural spring waters from around the world tend to have between 30mg and 130mg elemental magnesium concentration, so this mix only mimics what would be in spring water.
Do not rely on getting all your magnesium from the drinking water, because it's only a very small amount.  You will absorb much more via skin.  However, the magnesium drinking water charge makes it more hydrating for cells and allows for a better electrical conductivity, as well as cleansing and flushing of wastes.
People love this thirst-quenching, alkaline and delicious magnesium mineral water. The taste is soft and velvety and it's easy to drink more water to prevent dehydration. It also takes longer to pass through the system, as it is more hydrating and gets better access to cells. You can of course adjust the concentration of the flakes up or down to suit taste.
Average recommended for adults is to drink 3 litres per 24 hours (more if hot weather or perspiring a lot), and for children – whatever they need to quench their thirst. 
Elektra Magnesium Chloride Flakes (food grade) also contain 2% of other vital trace minerals that naturally occur. It's a mineral package made by Nature!  (Note that the sodium part has been skimmed off during dehydration, so it doesn't taste like your sodium table salt).
The water tastes and works better because the alkaline pH electrical charge of magnesium water accesses cells more easily, compared to the positive (acidic) charge of demineralised (reverse osmosis or rain water) water, which runs through the digestive system too quickly.
Adding one pinch (1/2 gram) magnesium flakes to a one litre demineralised water of 6pH lifts the pH to neutral. If you would like to lift the pH to 8 then simply add a tiny amount (about 1/8th teaspoon) of sodium bicarbonate to the litre of magnesium water. For optimal benefit the best range for mineral water is 7-8 pH.
When diluted in water, ELEKTRA™ Magnesium Flakes can be absorbed by cells without any further digestion required.
Did you know that natural mineral water concentrations of magnesium (as in foods) are easily absorbed via the gut wall to the interior of the body, whereas with high concentrations, most of the excess is wasted by the digestive system into the toilet? This is one of the reasons why not much magnesium from tablets and powders gets through the gut wall. If you need high concentrations, transdermal magnesium (via skin) is better.
There has to be a certain balance of electrolytes in drinking water. Depending on your lifestyle, you could need more or less magnesium chloride compared to others. For instance, an athlete that is constantly sweating out electrolytes and pushing their body hard will need a higher level of electrolyte top up . They may also need more sodium replacement due to perspiration.
Someone with a more laid back lifestyle and personality, with not much stress, may only need 300-400mg magnesium per day extra to replace what is lost and what is not being provided by food and digestion.  And the rest of us fall somewhere in between.  In fact, your magnesium needs fluctuate per day, depending on stress levels.  The more stress, the more magnesium we need to put back.
If you drink 3 litres of magnesium water per day at 80mg (one pinch flakes) per litre filtered water, that would be 240mg magnesium.  This by itself is not enough for high end needs. Transdermal absorption offers more magnesium availability and access for the body's needs quickly and efficiently.  You can combine different transdermal magnesium applications with drinking magnesium water and eating magnesium-rich foods to ensure optimal magnesium supply. You get to know what is the right amount for your needs with a bit of practice, because your body gives you feedback.